Palit ha annunciato di recente la variante con un frame buffer da 6GB della sua video card factory-overclocked denominata Palit GeForce GTX780 JetStream. In accordo al comunicato stampa del produttore, la Palit GeForce GTX780 JetStream 6GB è una soluzione ottimizzata per il gaming con risoluzioni video di tipo Ultra HD 4K.

Il core grafico della gpu lavora a 902MHz, ovvero a una frequenza che risulta essere più elevata, di 39MHz, rispetto a quella prevista dal design reference della GeForce GTX 780 di NVIDIA. In tal modo Palit riesce a garantire prestazioni superiori del 5% rispetto a quelle della GTX 780 reference.

La Palit GeForce GTX780 JetStream 6GB è tuttavia una card che può essere ulteriormente overcloccata dall'utente con l'utility ThunderMaster: la stabilizzazione dell'hardware in condizioni di overclocking è assicurata da uno stadio di alimentazione con PWM a 8 fasi e dal cooler non reference JetStream, più silenzioso di quello reference (6dB) e, nello stesso tempo, in grado di ridurre la temperatura operativa di 11.5 °C durante il gaming.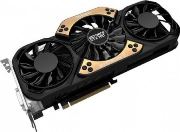 [Immagine ad alta risoluzione]

Palit Microsystems Ltd, the leading graphics card manufacturer, bringsanother glory JetStream series on GeForce GTX 780 lineup, the 6GB OC version of Palit GeForce GTX780 JetStream. It can tweak the GTX780 performance and gives you truly game-changing performance that will transform the way you experience all your favorite titles-now and future at the ultra high-resolution setting.

GeForce GTX 780 features a massively powerful NVIDIA Kepler-based GPU with 2304 cores-50% more than its predecessor. Plus, Palit design the 6GB of high-speed GDDR5 memory on GeForce GTX780 to offer rich realistic and explosive gaming performance under maximum Ultra HD 4K resolution setting. This Paliit GTX780 JetStream 6GB is the best choice for gamers who want to experience ultimate 3D gaming by NV 3D Vision Surround technology. Also equipped with the innovationary JetStream thermal solution and the optimized hardware components to ensure the best performance for all exciting hardcore gamers. With NVIDIA GPU Boost 2.0 and PhysX technology, giving you the performance capabilities you need to game at extreme settings.

The factory overclocked Palit GeForce GTX 780 JetStream 6GB is on core clock 902 MHz that is 39MHz higher than the standard speed. Equipped with the JetStream cooler and optimized product design, Palit GeForce GTX780 JetStream 6GB provides gaming benchmark up to 5% compared with GTX 780 reference board. In addition, Palit GeForce GTX 780 Jetstream 6GB uses copper based to efficiently dissipate the heat from GPU and make 20% cooler and equipped with DrMOS and 8-phase PWM to make the current circuit more stable and efficient which maximize the Overclocking potential. With JetStream thermal design features, the noise level is 6dB quieter and the temperature is 11.5 °C cooler under the hard game loading. Palit GeForce GTX 780 JetStream 6GB is absolutely the first and the best choice for enthusiast gamers!

Features:
Triple Fan: A Triple Fan design offers triple the cooling performance, and combined with the 8CM-9CM-8CM Smart Fans, heat is effectively drawn away from hot spots.
LED Lighting: Fancy blue LED lighting on the Palit JetStream's thermal solution provides ambient lighting to further immerse gamers into the gaming world.
TurboFan Blade: Inspired by the power of jet engines, the TurboFan Blade is designed to improve cooling performance by generating a powerful air stream and air pressure.
DrMOS: DrMOS, originally only available for high-end server CPUs, is now available in all its glory in the next generation of Palit graphics cards. DrMOS offers high current circuits, low noise operation, and effective reduction of heat generation.
8-Phase PWM: Unique 8-Phase PWM design reduces max current load for each phase to stabilize the voltage level and improve overclocking ability. It also provides another 30% current capacity.
Copper Base: The new JetStream design adding ;large size copper base directly adhered with GPU and more heatpipes; that can efficiently dissipate the heat from GPU and make 20% cooler.
Simultaneous 3 X DVI monitor support: With its optimized video output, the Palit JetStream supports 3 DVI connections using a single graphics card. *through HDMI-DVI dongle.
Optimized Air Flow: The 8CM-9CM-8CM Smart Fan system consists of three fans with alternating blade rotations. Each adjacent fan rotates in a different direction to reduce airflow conflicts and effectively improve overall cooling performance.
MasterMode: Palit ThunderMaster is a overclocking utility program for the graphics card, and allows you to boost the performance and to monitor the GPU information. Activate MasterMode, it can optimize the best setting of the GTX780 JetStream series and provide extra 5% gaming performance.




News Source: Palit Microsystems Press Release
Links