AMD lancia la video card per workstation Radeon Pro W5700 8GB GDDR6

Shadow of the Tomb Raider ora supporta la tecnologia FidelityFX di AMD

AMD Radeon RX 5500 in arrivo per sfidare la GeForce GTX 1650 di NVIDIA
AMD ha annunciato la video card per workstation denominata Radeon Pro W5700, una soluzione, basata su una GPU Navi a 7nm, che supporta pienamente il bus PCIe 4. 0 e utilizza un frame buffer implementato con 8GB di memoria video GDDR6. La GPU Navi della Radeon Pro W5700 è realizzata da TSMC con il nodo a 7nm FinFET in accordo all'architettura RDNA che, rispetto alla precedente...

La patch 18 della versione per PC di Shadow of the Tomb Raider introduce il supporto della tecnologia FidelityFX di AMD. Questa feature è finalizzata a migliorare la qualità grafica del game senza penalizzare il frame rate. Più in dettaglio, come si evince dal seguente screenshot, realizzato con l'ausilio del game Borderlands 3, FidelityFX consente di incrementare la definizione...

Sono on line le specifiche della nuova video card AMD Radeon RX 5500, una soluzione dedicata alla fascia mainstream del mercato consumer, basata sulla GPU Navi a 7nm indicata dalla fonte come Navi 14, e attesa sul mercato nel breve periodo. Questo chip è realizzato da AMD in accordo all'architettura grafica proprietaria RDNA, integra 22 Comput Unit (CU) e, quindi, 1408 (64 x 22)...


ASRock lancia le video card Radeon RX 5700 e RX 5700 XT Phantom Gaming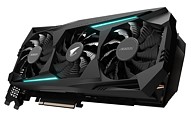 GIGABYTE mostra in anteprima la video card Radeon RX 5700 XT AORUS

AMD annuncia le specifiche e i prezzi delle Radeon RX 5700 XT e Radeon RX 5700
ASRock ha annunciato la linea di video card basate su GPU AMD Navi a 7nm denominata Radeon RX 5700 Phantom Gaming. La nuova serie di ASRock include più in dettaglio due SKU, la Radeon RX 5700 Phantom Gaming 8GB e la Radeon RX 5700 XT Phantom Gaming 8GB, entrambe di tipo factory-overlocked. La Radeon RX 5700 Phantom Gaming 8GB è equipaggiata con la GPU Navi 10 XL, il cui core grafico...

GIGABYTE ha fornito una preview della prossima video card Radeon RX 5700 XT che sarà commercializzata con l'ausilio del brand gaming-oriented AORUS. Le immagini della scheda grafica sono state diffuse attraverso il social reddit dal Community Manager di GIGABYTE, GBT_Brian. La Radeon RX 5700 XT AORUS è basata, naturalmente, sulla GPU Navi 10 di AMD ed è equipaggiata con un cooler...

In occasione di E3 2019, AMD ha annunciato ufficialmente le video card con GPU NAVI denominate Radeon RX 5700, Radeon RX 5700 XT e Radeon RX 5700 XT Anniversary Edition. AMD Radeon RX 5700 XTLa GPU Navi della Radeon RX 5700 integra 36 CU e 2. 304 stream processor, mentre le altre due vantano un processore grafico dotato di 40 CPU e 2. 560 stream processor. Per tutte le card, inoltre,...