Here's the latest Voodoo2 and Obsidian2 Glide Driver Kit published by Koolsmoky at 3dfxzone.it english forums. This package is basically a driver for both reference 3dfx Voodoo2 graphics accelerators and Quantum3D Obsidian2 cards.

It includes bleeding edge builds of 3dfx glide2x and glide3x drivers from glide.sourceforge.net as well as new Windows 2000 and XP miniport drivers. So this kit allows to run glide2x and glide3x based applications on Windows 9x, Windows ME, Windows 2000 or Windows XP OS.

Please note that for OpenGL based games we suggest to get Mesa for 3dfx Glide or Metabyte WickedGL or 3dfx MiniGL.

Read more about this driver and download it here.
Quantum3D Obsidian 2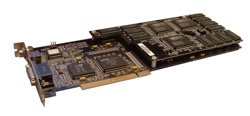 Versione più recente del Driver Glide per Voodoo2 e Obsidian2 pubblicata da Koolsmoky presso il forum in lingua inglese di 3dfxzone.it.

Questo package è sostanzialmente un driver per la configurazione sia degli acceleratori grafici 3dfx Voodoo2 aderenti al design reference di 3dfx che delle schede Quantum3D Obsidian2; include le versioni più recenti delle librerie glide2x e glide3x provenienti dagli sviluppatori di glide.sourceforge.net.

Il kit supporta i Sistemi Operativi Windows 9x, Windows ME, Windows 2000 e Windows XP. Per l'esecuzione dei game in OpenGL se ne consiglia l'impiego in abbinamento a MesaFX o Metabyte WickedGL o 3dfx MiniGL.





Collegamenti